Warren Little/Getty Images
Trevor Fisher Jr. and Keith Horne lead the way by one shot on Thursday after the first day of the BMW SA Open, with both posting six-under-par rounds of 66.
The South African duo both notched seven birdies and a solitary bogey in their opening efforts at the Glendower Golf Club. In hot pursuit, there are five players on five under par, including Rory McIlroy, who was playing his first competitive round of the year.
Here's a look at the leaderboard at the end of play on Thursday and recap of a fascinating opening day in Gauteng, South Africa, at this prestigious event.
BMW SA Open 2017: Day 1 Leaderboard

| | | | |
| --- | --- | --- | --- |
| T1 | Trevor Fisher Jr. | -6 | 66 |
| T1 | Keith Horne | -6 | 66 |
| T3 | Rory McIlroy | -5 | 67 |
| T3 | Thomas Aiken | -5 | 67 |
| T3 | Jordan Smith | -5 | 67 |
| T3 | Dean Burmester | -5 | 67 |
| T3 | Jbe Kruger | -5 | 67 |
| T8 | Oliver Fisher | -4 | 68 |
| T8 | Mark Foster | -4 | 68 |
| T8 | Jens Fahrbring | -4 | 68 |
EuropeanTour.com
Full leaderboard available courtesy of the European Tour website.
Thursday Recap
For much of the opening day, Fisher looked like the man who would lead the way at the SA Open. Starting at the 10th, he suffered a setback at 11, dropping a shot. But from there, the former Africa Open winner kicked on, putting together a sensational sequence of seven birdies in his next six holes.
A run of eight consecutive pars saw the South African hold his spot atop the leaderboard for the vast majority of the day, before Horne found his groove as the final groups ambled home.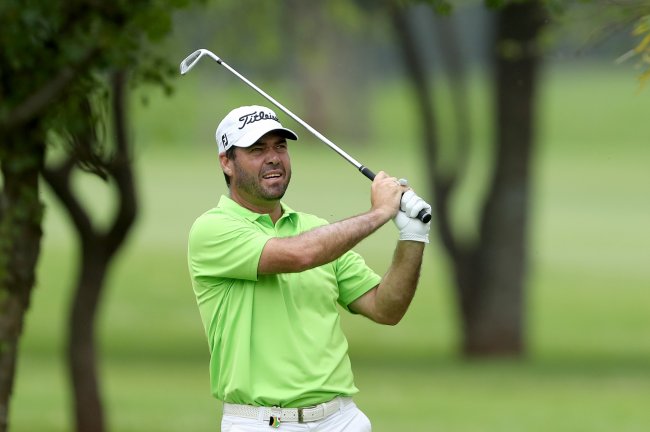 David Cannon/Getty Images

Horne surged into contention late on.
After he moved to five under, a bogey at 15 looked to have scuppered Horne's hopes of pulling alongside his compatriot. But back-to-back birdies at the next two holes meant there was a tie for the lead on Day 1.
Although there were plenty of strong performances from home players on the day, McIlroy was the man who attracted the biggest crowds in South Africa. And he'll be pleased with his first day's work, especially given he was using new clubs; that's after Nike withdrew from the market recently.
The world No. 2 was in sparkling form over his first nine holes, putting together a run of four birdies to head out in 32. The back nine was a little scrappier, with three birdies and two bogeys, but the four-time major winner was still able to produce moments of real quality, per the European Tour Twitter feed:
New year. Same @McIlroyRory. pic.twitter.com/IIF4XkQKpl

— The European Tour (@EuropeanTour) January 12, 2017
As we can see here, the 27-year-old was agonisingly close to a 66 with this tremendous effort at the last:
This is how close @McIlroyRory was to tying the lead on his final hole. #BMWSAOpen pic.twitter.com/KkwY9vSlg2

— The European Tour (@EuropeanTour) January 12, 2017
Afterward, the Northern Irishman admitted he was trying to be more enterprising in his shot selection in the second half of his round.
"I was a bit adventurous on my second nine," McIlroy said, per BBC Sport. "As my round drew to a close, I had to scramble on a few holes and did my bit by salvaging some pars. I played well, giving myself birdie chances."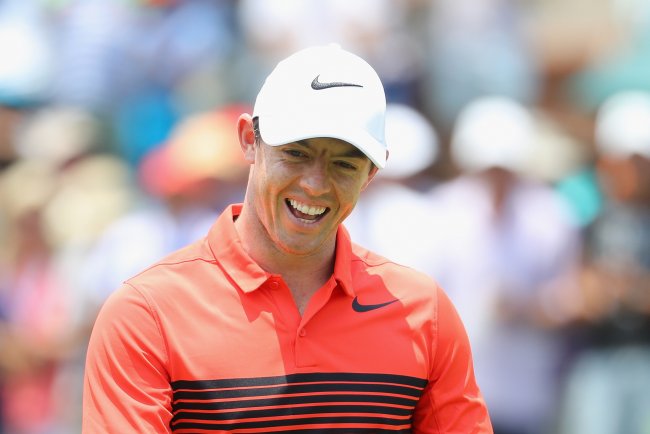 Warren Little/Getty Images

Alongside McIlroy on five under, there isn't much room on the leaderboard, with plenty of players taking advantage of the favourable scoring conditions.
One name rarely seen in the upper echelons of recent leaderboards is that of Sir Nick Faldo. He did superbly on his first start on the European Tour since 2014, posting a solid round of 70 that included three birdies. As we can see here, the 59-year-old has still got it:
"Be right!"

Vintage Faldo on display this afternoon. #BMWSAOpen pic.twitter.com/CCQCylsDZh

— The European Tour (@EuropeanTour) January 12, 2017
European Tour star Byeong Hun An was impressed with what he saw from the six-time major championship winner:
that was an impressive round @NickFaldo006…

— Byeong Hun An (@ByeongHunAn) January 12, 2017
After McIlroy, the next highest-ranked player in the field is Andy Sullivan, though the Englishman has a lot of ground to make up following a disappointing 78. He suggested on his Twitter feed afterward that he had felt rusty out on course.
World No. 72 Brandon Stone also needs a positive round on Friday if he's to make the cut, shooting 74. Ernie Els, who is the host of the competition this year, is sat on the same score.