CLEVELAND — On a night that finally put a cap on the Cleveland Cavaliers' four-month long championship party, there appeared to be no immediate hangover.
The Cavaliers cruised past the New York Knicks 117-88, showing an offensive explosion as bright as their new 400-plus diamond rings.
"This is for you guys. This is all for you," LeBron James announced to the 20,562 fans who arrived early for the title festivities. "This night, none of us will ever forget. Anybody in this building, this community, this state. Anybody with ties to Cleveland or Northeast Ohio. Cleveland against the world.
"It's an experience I can tell my kids about," rookie point guard Kay Felder told Bleacher Report. "Most people will never get to be in this position, getting (championship) rings. It's a memory we'll have in our history books."
The 52-year championship drought is of course dead, and could be buried completely if the next door Cleveland Indians can capture their first World Series since 1948.
"There's been a lot of talk about the past lately, but tonight is about the present," NBA commissioner Adam Silver said.
The present looked pretty darn good, with James recording 19 points, 11 rebounds and 14 assists to notch his 43rd career triple-double. "Back to back," James said smiling after the game, referencing the 27-point, 11-rebound, 11-assist triple-double he registered in Game 7 against the Golden State Warriors.
Kyrie Irving led the Cavs with 29 points while Kevin Love filled the stat sheet to the tune of 23 points, 12 rebounds, three steals and two assists.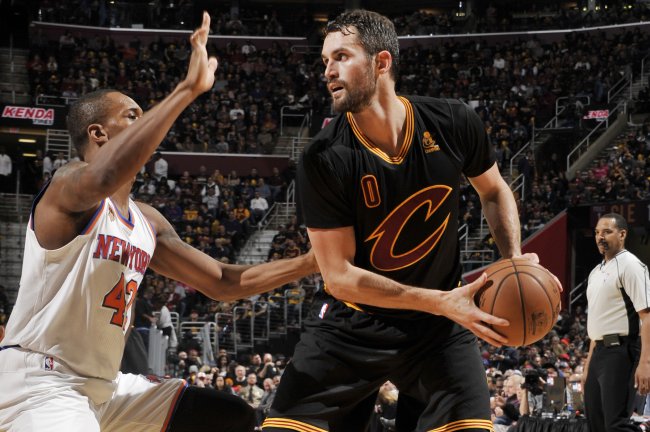 David Liam Kyle/Getty Images

With emotions running high, Cleveland stayed focused on the Knicks and the present, but what about the future?
The Cavaliers, despite winning last year's title, could be far better this season. Irving, Love and Iman Shumpert enter 2016-17 completely healthy, following summer surgeries the year before (although Shumpert left Tuesday's contest early with concussion symptoms).
There's also zero drama surrounding the head coach. Tyronn Lue has the full support of his players, something that could not have been said about David Blatt. "He knows what it takes to make it and stay in this league a long time," Felder said. "That's what he helps me out with on a daily basis. If I have any questions I can ask him anything and he's open."
Lue now carries championship rings as both a head coach and player with the Los Angeles Lakers. He hasn't been afraid to chew guys out when necessary, but is frequently complimented by members of the team.
The continuity that the Cavaliers carry over is invaluable. A total of 10 players are back, including the starting five along with Shumpert, Richard Jefferson, Channing Frye, James Jones and Jordan McRae. Newcomers Mike Dunleavy and Felder could both wind up being important parts of Lue's rotation as well.
Will The Cleveland Cavaliers Defend Their 2015-16 NBA Championship?
A look around the Eastern Conference reveals no one that can seriously challenge the Cavaliers for a spot in the NBA Finals. The Toronto Raptors, Boston Celtics and others will make a run, but there's no particular team the Cavs are looking behind their backs at.
"We're not really too sure who to look out for," Felder said. "You never know with the East. Since I've been watching basketball, the NBA for a long time, you never know with the East."
There was no signs of complacency for the Cavaliers, who now face the difficult challenge of protecting their throne.
"You can never be satisfied, especially in this league. It can be up and down, despite anything that you can do. So you just try to put yourself in a great position every single day," said Irving.
Of course, everything comes back to James. With perhaps the most talented roster ever surrounding him, James can now play with the pressure of delivering a title to Northeast Ohio finally off his shoulders.
"To come back home and win a championship as he promised means a lot," Lue said. Just thinking of the emotions that's going through his head. Coming back, the crowds excited and you finally deliver a championship to Cleveland. I just think for him he wanted to come out and win this game. I know how important it was to win this game for him."
Physically, James resembles someone 10 years younger, something that Lue said he can prove.
"(LeBron) got tested this summer and they said he had the body, bones and structure of a 19-year-old kid. Maybe he's aging backwards," Lue joked.
A dip in the Fountain of Youth for the game's best player, combined with a unified, talent-filled roster playing for a coach that is here to stay means an even better future for the Cavaliers.
For one final night, however, they enjoyed the past. Following as impressive a start to the season as anyone could have hoped for, Love exclaimed to the crowd:
"I'm gonna go try my ring on again."
Greg Swartz is the Cleveland Cavaliers Lead Writer for Bleacher Report. Follow him on Twitter @CavsGregBR. Stats via Basketball-Reference.com. All quotes obtained firsthand unless otherwise noted.