This was not another Sebastien Buemi situation or a repeat of the Jean-Eric Vergne saga for Toro Rosso.
It was never going to be a case of unscrewing one driver's crash helmet, tossing it away as if it were a faulty lightbulb, inserting another and continuing as normal.
It was not even a case of identifying the least convincing of the four Red Bull boys, stuffing the unlucky one into the nearest cannon and firing him into the afterlife known as the World Endurance Championship, the DTM, IndyCar or Formula E.

Charles Coates/Getty Images

Why? 
Because, for the first time in their decade-long existence, Toro Rosso were not dealing with an underperforming, good-for-nothing Formula One driver who could and should do better, but a vulnerable young man in desperate need of support.
In the months after he was replaced by Max Verstappen, suffering the humiliation of being the first Red Bull driver to be posted back to the B team, Daniil Kvyat carried the air of someone waiting to be put out of their misery, his head so low that it scraped along the floor of the paddock.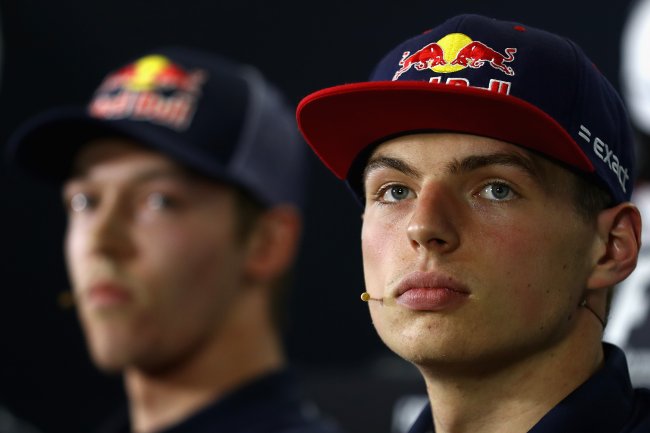 Clive Mason/Getty Images

Fully aware of the company's habit of chewing up and spitting out anyone suspected of lacking the substance of a future world champion, Kvyat was convinced he was on borrowed time and was found discussing life after Red Bull as soon as his second race back at Toro Rosso.
"I want to give everything to this team, but when all of these things start to go wrong you look for a change of the situation," he explained at the Monaco Grand Prix, per F1i.com's Chris Medland, suggesting he would seek "help outside of Red Bull" once he began to repair his reputation with some decent results.

With such a resigned attitude, however, his results only got worse and at July's German GP—where he qualified 19th with a lap more than half a second slower than team-mate Carlos Sainz Jr.—Kvyat hit rock bottom, admitting it was not the real him behind the wheel in that Sky Sports interview.
A tough watch: Daniil Kvyat down and distraught after #GermanGP qualifying blow https://t.co/O73oPnTxQN #GermanGP pic.twitter.com/KURu2Pipqr

— Sky Sports F1 🏎 (@SkySportsF1) July 30, 2016
At a time Pierre Gasly, the next cab off the Red Bull rank, was excelling in the GP2 feeder series, that was the moment for Red Bull and Toro Rosso to make their move, to either trigger the trapdoor over the August break or quietly inform Kvyat his services would not be retained for 2017.
But they just couldn't.
Even by their standards, ejecting a driver from two different seats in a matter of months would have been cruel in the extreme, a potentially fatal blow to Kvyat's career as a premier racing driver.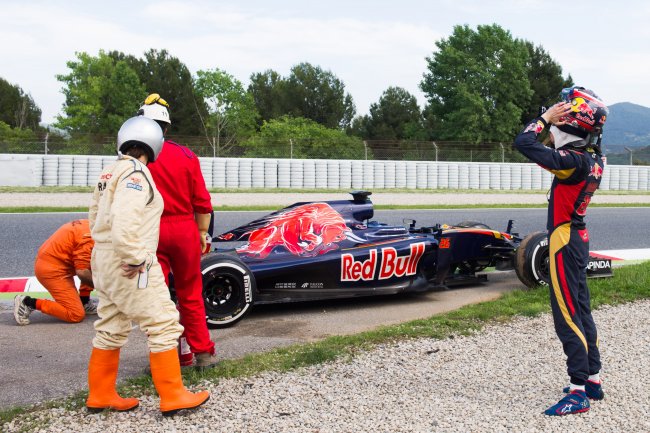 Alex Caparros/Getty Images

And although their natural instincts may have been urging them to dump him in the same brutal fashion they had dropped Buemi, Vergne and Co. in years gone by, Red Bull couldn't be seen to give up on a driver as utterly despondent and lost as Kvyat.
In other words, an unusual situation required an unusual, uncharacteristic response.
It was telling, then, that as Kvyat's crisis continued—taking Kevin Magnussen with him into the wall in Monaco, crashing out of qualifying in Austria—and he gave Red Bull more and more reasons to marginalise him, they became increasingly compassionate toward the 22-year-old.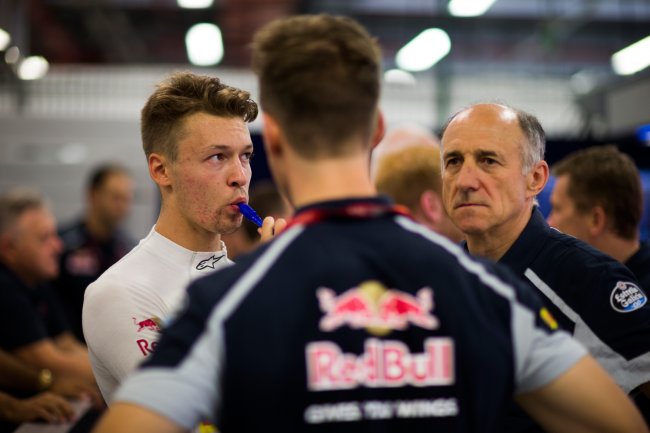 Getty Images/Getty Images

As reported by Motorsport.com's Jonathan Noble and Kate Walker, Toro Rosso's Franz Tost, the father figure once driven to physically removing a driver from his team, explained Kvyat would have a future in F1 as long as he regained his confidence.
As long as he managed to relocate the "really good driver" hiding within. As long as he felt "well."
Tost's views were echoed by Dr. Evil himself, Red Bull advisor Helmut Marko, who—on an Italian GP weekend Gasly made the suicidal mistake of believing the Toro Rosso seat was his—told Sky Sports F1 how Kvyat would be afforded a "chance to recover."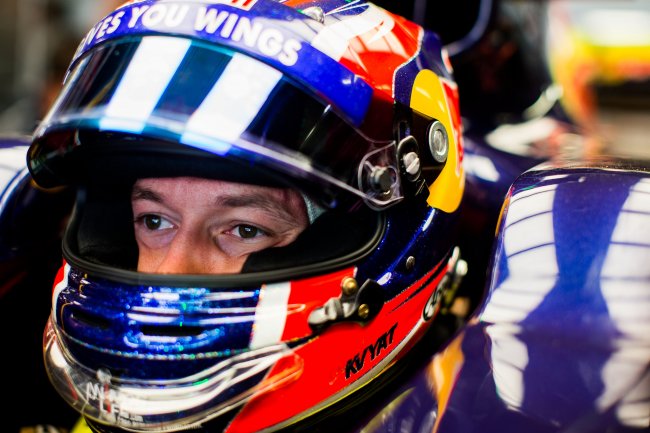 Peter Fox/Getty Images

The warmth shown to Kvyat when he needed it most, when it would have been far easier to place him on the pile of wasted talent, was crucial.
And after resetting during the August holidays, escaping the pressure of the paddock for those four precious weeks, he effectively secured another season with a welcome return to form in September's Singapore GP.
In the cold, analytic light of the post-race debrief, Kvyat was again too feisty for his own good at Marina Bay, where his worrying knack of picking the wrong fights at inappropriate times ultimately cost him a potential seventh-place finish.
Kvyat vs Verstappen, CHE GRINTA! #SingaporeGP #F1NightRace #Kvyat #Verstappen #F1Rai pic.twitter.com/VudUhAUgy2

— Marco Talluto (@F1News_Marcuss) September 18, 2016
Yet the sight of him scrapping with the driver who replaced him at Red Bull, swatting Verstappen's sustained attacks, was far more symbolic than an extra four points would ever have been, confirmation that Kvyat—as he declared after the race, per ESPN F1's Lewis Larkam—was finally "loving it again."
That renewed spark was there for all to see in Malaysia and Japan, where he outqualified Sainz twice in the space of seven days, and when the announcement came at last weekend's United States GP, what had for so long been the unthinkable had become the inevitable.
Presented with another chance, Kvyat must now focus on addressing the lingering flaws in his driving, eradicating the kind of brainless errors we witnessed most recently in Texas and softening his inputs—something he was seemingly reluctant to do in his time as an all-action, podium-finishing Red Bull star.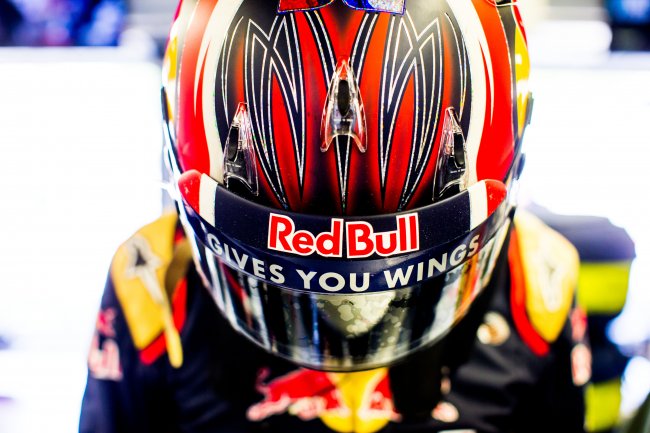 Peter Fox/Getty Images

With major regulation changes on the horizon, he will be offered something of a fresh start in 2017, when Kvyat—as one of the tallest, strongest, hard-charging drivers on the current grid—will be a match for anyone when it comes to manhandling the physically demanding, new-generation cars.
But the real victors here are Red Bull and Toro Rosso for recognising this episode was very different to anything they had encountered before.
For having the emotional intelligence to provide Kvyat with a sense of direction, piecing a broken driver back together again.
And for proving that, deep down, F1's so-called career killers really do have a heart after all.
Follow @OllieHarden