DENVER — Emmanuel Mudiay knows how different the NBA will feel during his sophomore season. Rookie excuses no longer fly for the No. 7 pick in the 2015 draft.
"I'm more relaxed [in my second season]," the Denver Nuggets point guard told Bleacher Report. "I just know what to expect more. The game has slowed down tremendously, so it's going to be fun." 
By all accounts, Mudiay's first season didn't go as smoothly as expected, especially considering he entered with Rookie of the Year aspirations.
He averaged just 12.8 points, 3.4 rebounds and 5.5 assists per game, with shooting percentages (36.4 percent from the field and 31.9 percent from downtown) well below his positional peers. His defense could have politely been called a work in progress against the NBA's myriad talents at point guard. Turnovers reared their ugly heads far too often (3.2 times per game). 

Sam Forencich/Getty Images

Mudiay's shooting still needs improvement, and this preseason didn't reveal any traction (30 percent from the field). His defense and ability to depress turnover numbers should see progress with the passage of time. 
He is, after all, just 20 years old. He also spent the offseason working on his entire game and building up the requisite strength to endure the 82-date NBA calendar and become a better interior finisher.
There is already plenty of reason for hope. After last year's All-Star break, Denver's coaches noticed tangible progress. 
Two Versions of Emmanuel Mudiay

| | | | | | | | |
| --- | --- | --- | --- | --- | --- | --- | --- |
| Pre-ASG | 11.4 | 3.2 | 5.9 | 3.5 | 34.0 | 27.2 | 61.6 |
| Post-ASG | 14.9 | 3.7 | 4.9 | 2.7 | 39.3 | 36.4 | 77.5 |
"Emmanuel improved in so many areas last year," head coach Mike Malone said. "For the fan, they see just the improvement in his three-point percentage and his decision-making—whatever it may be. What I saw was a guy who came in and was very quiet, was kind of to himself. By the end of the year, you saw a completely different Emmanuel Mudiay—someone who had matured, someone who had grown up, that had kind of gotten comfortable in his own skin."
Mudiay should become a better shooter, a stronger defender and a more capable ball-handler with time and repetition. But leadership requires active work and is supremely important to this team on the rise. 
The young floor general has never thrived as the center of attention. He's a naturally quiet individual who has to push himself to become more vocal.
He'll be the first to tell you he typically prefers keeping to himself. But under the veteran tutelage of Mike Miller, he's begun to realize how important it is for him, as a starting point guard, to change that mentality. 
"He [Miller] said a lot of the stuff I went through, he saw and went through it," Mudiay said. "He got thrown out there in the fire early, playing his rookie year. He was just trying to teach me a lot of the stuff to do, not to do, and he just built my confidence as the year went on."
The lessons have stuck.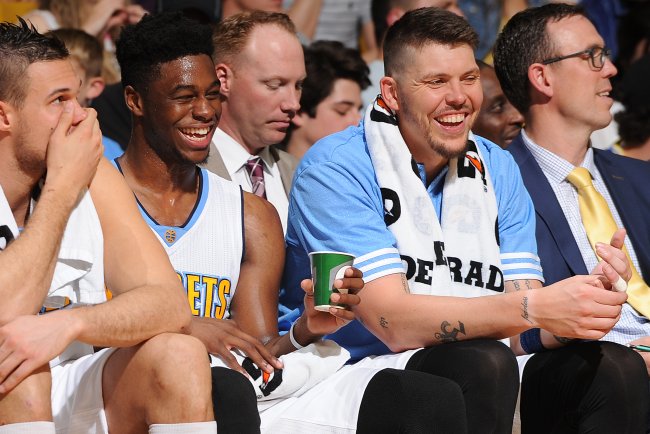 Bart Young/Getty Images

"Being a point guard, it don't matter if you're a veteran or you're the youngest one on the team," Mudiay said. "That's one thing [leadership] that I'm going to be big on myself this year is being more vocal, being more of a leader, challenging guys and also challenging myself."
So far, so good. Mudiay's been more engaged during practice sessions and seems more comfortable interacting in media scrums. As Christopher Dempsey of the Denver Post told Bleacher Report, this has been a gradual shift happening in accordance with his own feeling of belonging.
"I think he's a lot more comfortable now. He didn't want to come in as a rookie loudmouth last season, so he didn't," Dempsey explained. "There were plenty of players with experience who were vocal leaders, and so Mudiay basically sat back and watched and tried to learn that aspect of it while also being indoctrinated into life in the NBA.
"As the season went on, and as he got to know his teammates and they got to know him, he felt more comfortable being more vocal," he continued. "I think he'll be fine in the role of vocal leader. He's a little more vocal than most people think, and most importantly, he feels he has the respect of his teammates to be able to take on the role."
The preponderance of youth on the Denver roster makes gaining respect even easier: Mudiay may only be 20 years old, but he's surrounded by Will Barton (25), Gary Harris (22), Jusuf Nurkic (22), Jarnell Stokes (22), Juan Hernangomez (21), Nikola Jokic (21), Malik Beasley (19) and Jamal Murray (19).
He gets to feel like a veteran, even if he still can't legally consume alcohol.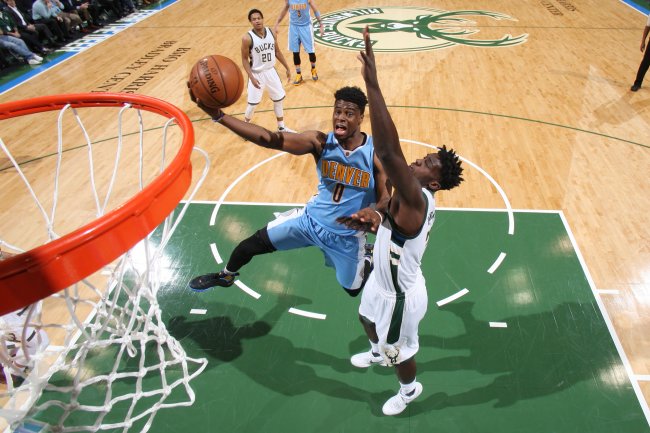 Gary Dineen/Getty Images

Since the Nuggets aren't ready to compete for a championship, or even a top seed in the Western Conference, Mudiay doesn't need to hit his on-court peak yet, either. 
It's far more important he becomes the team's leader and helps facilitate the growth of the many "upside players" scattered throughout this deep roster. 
"I expect Emmanuel to be more vocal this year. To be a leader. To use his voice. And even though he only has one year under his belt, he's our floor leader," Malone said. "He needs to be that guy who's going to step up, and if you're going to talk it, you got to walk it.
"And I know he's ready."
Go Big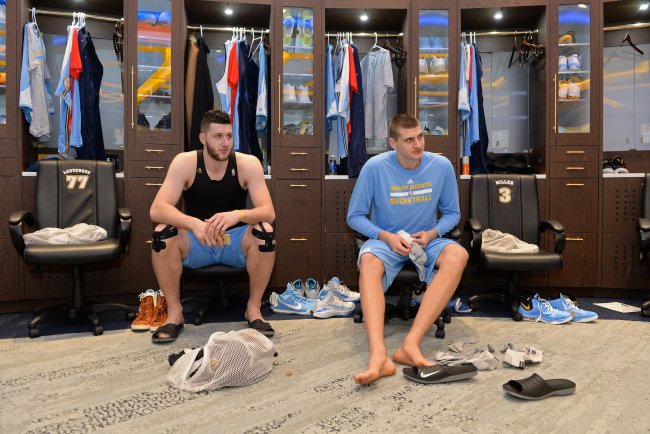 Garrett Ellwood/Getty Images

The NBA is going smaller, but the Nuggets won't just follow blindly because it's the popular course these days. 
"A lot of times in the NBA, there's a herd mentality," Malone explained. "Everyone wants to—Golden State is doing it; so let's do it. San Antonio is doing it; so let's do it. We don't want to be a team that's just going to follow the current trends."
Denver is moving away from the small-ball fascination and instead playing Jokic and Nurkic together, even though both bigs stand 6'11" and naturally suit up at center. The team initially experimented with the two-man combination during the closing portion of 2015-16, though results weren't promising—a minus-7.1 net rating in 94 minutes, per NBAWowy. 
But that early trouble won't deter Malone, who likens his frontcourt duo to the Zach Randolph-Marc Gasol combination the Memphis Grizzlies used to great success in previous seasons.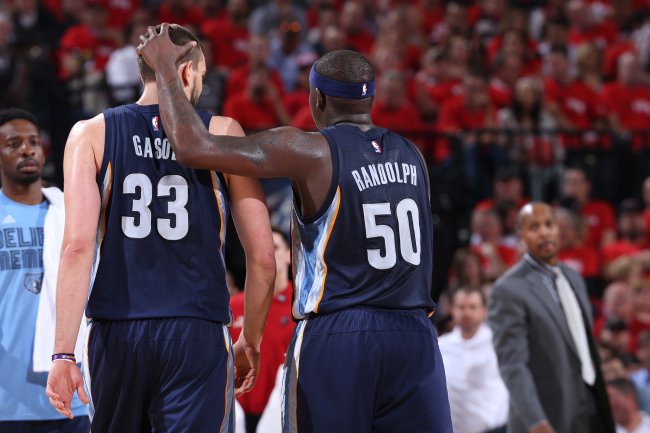 Sam Forencich/Getty Images

This is the blueprint for Denver's big lineup.
"What we like about both Jusuf and Nikola, not only are they big, but they have a skill set unlike most bigs," he said. "They can both step out. Two very good passers. We saw Nikola lead the break quite a few times last year and make spectacular plays."
Over 87 preseason minutes, the jumbo lineup seems to be clicking better.
According to NBAWowy, the Nuggets scored 105.5 points per 100 possessions while both bigs were together, and they allowed just 102.2 over the same stretch. That means they outscored the opposition by 3.3 points per 100 possessions, giving them a net rating comparable to what the Boston Celtics posted in 2015-16 (3.2). 
"He's the guy you can pretty much put him in every lineup and he's going to excel," Wilson Chandler revealed about Jokic. "He's a great passer. He can shoot. He's skilled."
That well-rounded ability shows in the dual-big scheme, as Jokic's playmaking has achieved favorable results. It's no surprise he provided assists on an eye-popping 18.5 percent of his teammates' buckets while sharing the floor with Nurkic this preseason.
Progress Amid Regression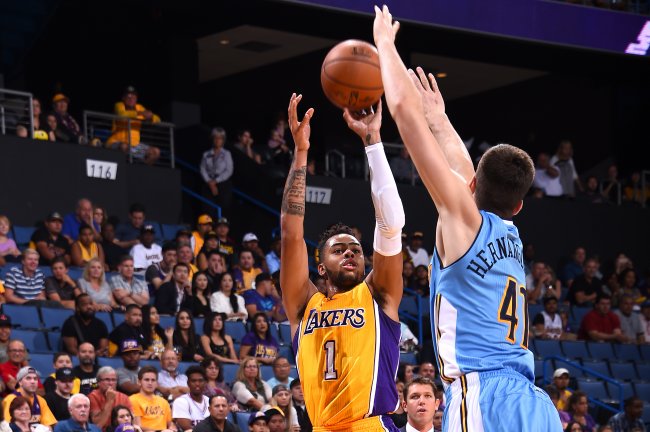 Juan Ocampo/Getty Images

The Lakers went 14-of-28 on threes in a preseason game against Denver.
"Last season, we were 4-25 in games where we were tied or out-rebounded," Malone said. "When we rebound the ball and we defend, we were a very good basketball team last year. We beat some very good teams. But it has to be more consistent this year."
They were more consistent in preseason, and the numbers validate the head coach's assertion that his troops played like one of the league's top rebounding units. Per RealGM, the Nuggets averaged a league-high 51.4 rebounds per game. And that wasn't just a function of the uptempo schemes, which naturally create more opportunities. 
Advanced Rebounding Metrics During Nuggets Preseason

| | | |
| --- | --- | --- |
| Offensive Rebounding Percentage | 28.8 | No. 2 |
| Defensive Rebounding Percentage | 79.9 | No. 6 |
| Total Rebounding Percentage | 54.5 | No. 1 |
RealGM.com
But the team's inability to guard triples—Malone's other point of emphasis at Media Day—remains disconcerting, especially on the heels of finishing 2015-16 ranked No. 26 in three-point percentage allowed and No. 23 in total threes allowed. 
"As a team, we didn't do too good on that [three-point defense]," Mudiay told Bleacher Report while preparing for the season opener against the New Orleans Pelicans. "What was it, like 40 percent? That's not good enough, so we're going to have to pick it up as the year goes on." 
According to RealGM, the Nuggets allowed foes to knock down 38.5 percent of their preseason triples, which left them beating only the Orlando Magic (39.3) and Oklahoma City Thunder (39.0). Teams knew this was a weakness and exploited it for all 48 minutes, and that portends trouble if there's not a quick fix.
"The three-point defense needs constant maintenance and daily work…" Malone admitted. "It is definitely a work in progress. It's something that we talk about a lot, and it'll be a point of emphasis all 82 games this year." 

Denver got off to a strong start in this department against the Pelicans. While Anthony Davis torched the defense with a barrage of interior finishes and mid-range jumpers, the Nuggets shut down the perimeter, holding the opposition to just 3-of-19 shooting from beyond the arc. 
Dikembe

Mutombo

Jersey Retirement

Andy Hayt/Getty Images

When the Nuggets suit up against the Portland Trail Blazers at the Pepsi Center on Saturday, they'll be wearing their iconic "rainbow" throwbacks and honoring Dikembe Mutombo: 
Nuggets announce they'll be retiring Dikembe Mutombo's No. 55 jersey on Oct. 29. pic.twitter.com/Fsn06mpG0h

— Adam Fromal (@fromal09) September 26, 2016
It's a well-deserved ovation for a true legend in franchise history. 
Mutombo spent the first five seasons of his Hall of Fame career wearing No. 55 for Denver, representing the organization in three All-Star Games. As a Nugget, he won one of his four Defensive Player of the Year trophies and provided one of the most memorable franchise moments ever: 
The big man also figures prominently into Denver's career leaderboards. Only Dan Issel and Byron Beck have more total rebounds, and no one is close to matching his 1,486 blocks. Just four players have higher field-goal percentages, and not a single Nugget has recorded more defensive win shares. According to NBA Math's total points added, he's one of the most valuable all-around contributors in franchise history:
That Mutombo logged only half a decade in the retired jersey makes his rank all the more impressive. 
Gallinari

's Growth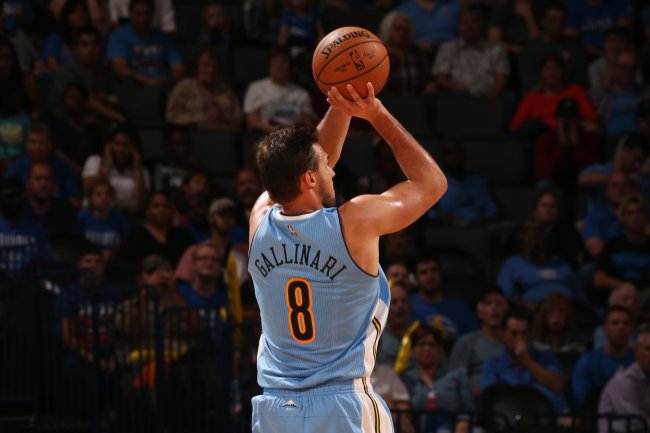 Layne Murdoch/Getty Images

Danilo Gallinari has completely bought into the Nuggets' ball-sharing methods within the half-court set. A staggering 80 percent of his preseason buckets came after a teammate's feed, per NBAWowy. That stands in stark contrast to last year, when he required assists on just 57.3 percent of his makes. 
The shifting mentality is working wonders. 
Gallinari suited up for five preseason outings and paced the Nuggets in points per 36 minutes (26.0). Better still, he accumulated those while shooting 58.8 percent from the field, 66.7 percent from beyond the arc and 87.8 percent at the stripe. 
This didn't change in Wednesday's season opener against the Pelicans. The Italian forward scored 15 points on 5-of-11 shooting from the field and 3-of-6 from downtown, requiring assists on three of the five buckets. 
Remaining this efficient is impossible, but Gallinari will still be valuable if he continues to buy into this style—in spite of the inevitable regression. As offfensively talented as he may be, he's even more effective when he's not tasked with doing too much of the heavy lifting. 
Adam Fromal covers the NBA for Bleacher Report. Follow him on Twitter @fromal09. 
Unless otherwise indicated, all stats are from Basketball-Reference.com, NBA.com or NBA Math, and all quotes obtained firsthand.