ATLANTA — The story begins with boos.
Deep-throated, vicious boos, reverberating off the walls and hanging in the stale air at the Georgia Dome on January 3, 2016.
Matt Ryan, once the city's favored son—third pick in the 2008 draft, Offensive Rookie of the Year, four-time Pro Bowler—soaked in the disappointment.
The goodwill he had built up was gone, sapped by a season in which the Falcons won five in a row out of the gate, then lost seven of eight, then won two, then finally missed their one last chance at a winning season with a loss to the Saints. Ryan's most notable contribution to the finale was an interception that set up the Saints' walk-off field goal. His most notable contribution to the season was 16 interceptions and five lost fumbles.
He heard the talk around town, backing up the boos.
The Falcons would be better off without him.
Trade him. Cut him if need be. Just move on.
"Things got pretty dark for him," Falcons offensive coordinator Kyle Shanahan says.

Maddie Meyer/Getty Images

Eight hard NFL years were starting to show on Ryan's face. Season over and out of the playoffs for the third straight year, he walked away from the Falcons' Flowery Branch headquarters and into the offseason a hardened man.
The river of his career was flowing into the sea. He would be 31 when the 2016 season opened.
How he responded to the boos would mean everything.
---
Ryan could have brooded. He could have pointed fingers. He could have marched into the office of general manager Thomas Dimitroff—or even owner Arthur Blank—and demanded change.
"Either you were going to get stronger from it, or worse from it," Shanahan says. "Matt chose to get stronger."
Ryan pushed the reset button on his career. Instead of waiting until March to get back to football, as he normally might, he headed to L.A. in January, just after the season-ending loss.
In 2015, he hadn't made enough big plays. On throws traveling 20-plus yards, Ryan had a passer rating of 70.7—which ranked 28th in the league, according to Pro Football Focus. So he began working with throwing coaches Tom House and Adam Dedeaux at 3DQB in Los Angeles.
Ryan spent six weeks training with House over the offseason. To show for it, he has a passer rating on 20-plus-yard throws this season (playoffs included) of 135.4, best in the league. He also averaged 9.3 yards per attempt—nearly two yards better than his average of 7.5 one season ago.
Source: Pro Football Focus
"I've not seen him more confident in his deep throws than this year," says Dimitroff, who drafted Ryan and probably knows him better than anyone in the NFL. "He worked on that with his functional movement, technique. It's a combination of that, his dedication, having the athletes to take the shots to, and his association with the offensive coordinator."
Changing his offseason training through House's guidance also has enabled Ryan to finish this season strong.
"It's helping me specifically this time of year," Ryan says. "I feel really fresh and really good."
It is Ryan's nature to deal with failures by staying later and sweating more. He's Type A all the way. But now he has become more about working smarter than working harder.
In the past, Ryan always spent Tuesdays during the season—his off day—at the facility grinding on the Falcons' next opponent. Last offseason, he told Shanahan he was rethinking that approach. But he wanted to know what Shanahan thought about it.
"I told him it would help him a lot if he didn't come in on Tuesday and relaxed on that day," Shanahan says. "He tried it and felt the benefits of it. You have to relax your mind and keep a balance in your life. Sometimes it's hard to do that if you are engulfed in work seven days a week. It's hard to change something you've always done, but he was strong enough to see it as the right decision. And he has gone into every game with a very clear mind."
As Ryan has become more thoughtful and patient in his preparation, he also has become more thoughtful and patient in his dropbacks. It is evident in how he has consistently used all of his receivers in achieving his career-best 117.1 passer rating.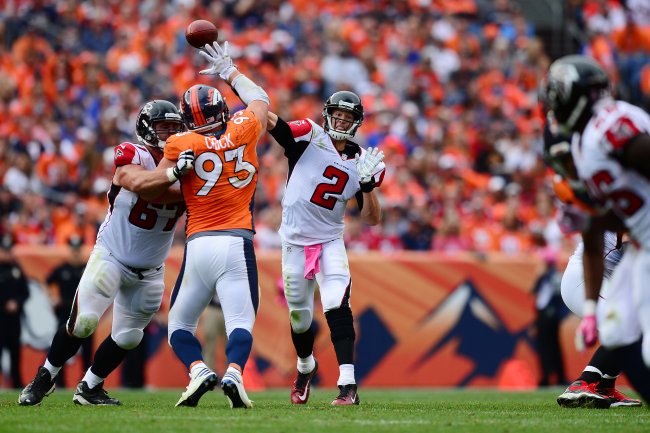 Dustin Bradford/Getty Images

Ryan threw touchdown passes to 13 receivers this season to set an NFL record. Shanahan believes Ryan has taken his ability to go through progressions to another level. Not forcing the ball has resulted in throwing nine fewer interceptions than he had a year ago.
The Falcons helped him by bidding adieu to Roddy White, a once-fine receiver who had outstayed his usefulness, and by acquiring receivers Mohamed Sanu and Taylor Gabriel and center Alex Mack—perfect puzzle pieces in the Falcons offense.
It is Ryan who has put the puzzle together on the field.
"Before, he might get locked in to Julio [Jones] or Roddy [White] or myself," former teammate Tony Gonzalez says. "The biggest difference is he's not doing that. That comes from experience…from the game slowing down and being really comfortable. He looks so cool and collected when he drops back. Even when the pocket collapses, he's still making great decisions."
---
All of this might not have happened if Robert Griffin III had not flamed out in Washington, prompting Dan Snyder to clean house, and if someone from above had not demanded the Browns draft Johnny Manziel in the first round.
But as fate would have it, Shanahan and Ryan came upon one another at the crossroads of their respective careers. Shanahan already had been an NFL offensive coordinator for seven seasons with the Texans, Redskins and Browns, but he was working for his third team in three seasons. He had never felt what a postseason win was like.
Ryan, meanwhile, was standing on the great divide that separates journeymen from stars. In the games that define quarterbacks—postseason games—he was 1-4.
Ryan and Shanahan started out well enough together in 2015, but then the season went awry. The stress that oozes from losing streaks can tear up any relationship, let alone one that hasn't had time to become rooted.
Ryan was frustrated about his struggles in Shanahan's offense, which was a departure from anything he played in previously. He let his frustrations be known.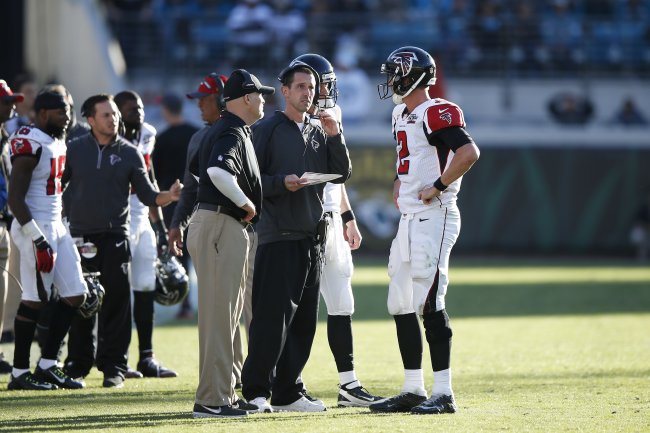 Joe Robbins/Getty Images

Shanahan says Ryan wanted to go back to some of the concepts he was familiar with under Shanahan's predecessor, Dirk Koetter. There was some give and take in the game-planning as the year went on. Ultimately, Shanahan, who had been reputed to be stubborn, incorporated more of what Ryan was comfortable with in his playbook.
As time has passed, Ryan has sought less input into game plans, Shanahan says. "I know what plays he likes, he knows what I like, and we don't need to talk as much."
The results say more than words ever could.
"It shows up on the field that they are on the same page," says Gonzalez, now an analyst for NFL on CBS. "They have a really good groove going. It seems like every play they call is the right play. That's both of them coming together."
Shanahan has encouraged Ryan to use his athleticism and throw on the move more. Ryan has listened and given defenses more to concern themselves with.
The give and take between the quarterback and his coach is another sign of Ryan's maturity.
"When he was younger, he deferred to the coordinator," Dimitroff says. "Now he is very direct. He and Kyle are communicating very, very well."
Shanahan says he and Ryan have laughed about the perception that they did not mix well.
"We were always good," he says. "When you go through adversity together, you find out what people truly are. I thought we fought through it pretty good, and our relationship got stronger from it."
Now, they have reached the NFC Championship Game together, and Shanahan cashed in with a reported deal to be the next head coach of the 49ers.
Their association has been "awesome" for Ryan.
"I feel we learned a lot that first year," he says. "He learned a lot about not only myself but the group of guys we have and what their talents are. I think he's done a great job this year of putting everyone in positions to be successful."
---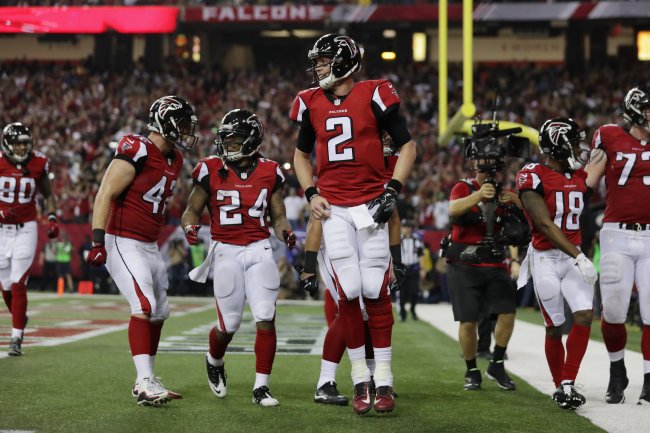 Streeter Lecka/Getty Images

After leading his team on a 75-yard touchdown drive in the third quarter Saturday, Ryan led something else that may have been just as important: a sideline meeting.
Seahawks defensive lineman Michael Bennett and his teammates were none too pleased about a block by Falcons right tackle Ryan Schraeder that sent Bennett to the sidelines, and they were letting it be known with words and deeds. So during the timeout after the extra point, Ryan called over the troops.
"We are not going to get a penalty out there," he told them. "Be ready for some garbage, and we are not going to retaliate. If they want to play like that, let them get the flags."
His teammates took his words to heart as the Falcons slowly drained the hope from their opponent.
"Four years ago, he never would have pulled the entire team up," Dimitroff says. "He owns the entire team more, not just the offense. That's the difference."
For most of his career, Ryan was comfortable standing shoulder to shoulder with his comrades. Now he stands in front of them. More than ever, the Falcons are his team.
Dimitroff has seen what he calls "incremental leadership" in Ryan. He may have rocked the league as a rookie, but he didn't want to be that guy who acted like he was the boss before he deserved to be. Ryan was mindful of the veterans who had paid their dues and earned the right to lead.
Gonzalez, who remains close with Ryan, traces Ryan's leadership growth to 2015. "Going through a season like that will make you say, 'I'm not holding anything back anymore. If I have something on my mind, I'm going to say it,'" he says.
Last March, for the first time Ryan took teammates—27 of them, including some defensive players—to South Florida to work together and bond. There were throwing and lifting sessions at St. Thomas Aquinas High School in Fort Lauderdale and nights with heavy bass lines on South Beach. Ryan pulled out his credit card and considered every dime and every minute well spent.
"I think you learn a lot throughout your career," Ryan says. "You understand what your role is on certain teams. As you get older and guys become younger that are around you, leadership becomes more important. Early in my career, I was surrounded by a lot of veteran guys, older guys, who were great players, so it probably wasn't as important. But as I've gotten older, I've certainly become more of a leader for my team."
Of course, leading comes more naturally when you are throwing touchdown passes instead of interceptions. Ryan is doing that.
"He is in a complete zone right now," Gonzalez says. "He's a complete master of the game. I'm so happy for him because I always knew he could be this type of player. I always used to say it's not a matter of if he'll become an elite quarterback. It was a matter of when. I'm talking Aaron Rodgers, Drew Brees, Tom Brady, Ben Roethlisberger. He's that guy now."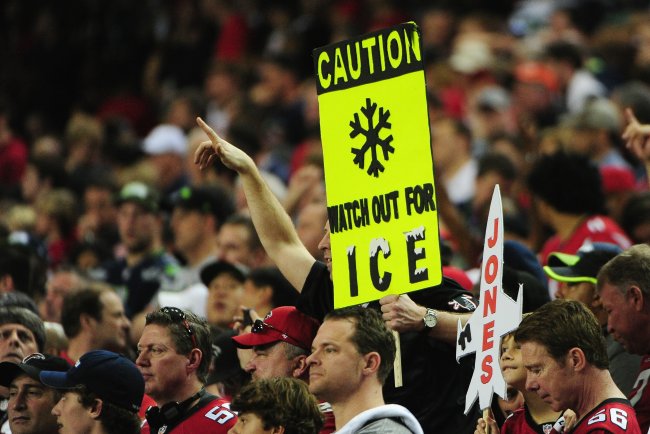 Scott Cunningham/Getty Images

A little more than a year after Ryan's lowest point, there is hope in Atlanta. Just south of the Georgia Dome, the Falcons' next home, the $1.5 billion Mercedes-Benz Stadium, almost sparkles with promise as the finishing touches are being applied. And the Falcons are two games from becoming what they've never been before—Super Bowl champions.
Falcons fans are letting Ryan know what they think about him again. But the sounds are different now.
"M-V-P! M-V-P!"
Dan Pompei covers the NFL for Bleacher Report. Follow him on Twitter: @danpompei.