Novak Djokovic's early exit at the 2017 Australian Open was the latest current in what appears to be a wave of problems for the former world No. 1.
But does this seismic upset give Djokovic a reason to press the panic button? 
Djokovic lost Thursday to Denis Istomin 7-6 (8), 5-7, 2-6, 7-6 (5) in front of a stunned crowd in Rod Laver Arena. Istomin, 30, had to win an Asian-Pacific wild-card playoff to gain entry into the main draw.
So stunning was the victory that even Istomin couldn't believe he pulled it off. 
"It's unreal. For me, it was impossible to think that I can hold it five sets with Novak, physically and mentally. So I did well today," Istomin said afterward, per David Packman of AusOpen.com. 
The loss guarantees Andy Murray the No. 1 ranking post-Australian Open. Djokovic will hold onto No. 2. So if nothing much has changed, is this loss cause for serious concern? Does this defeat signal a major problem or just a hiccup in Djokovic's game?
Compared to the two previous seasons, 2017 looks like it might be panic time. The loss came at the Australian Open, a tournament Djokovic has owned over the past decade. He's won five of the last six and reached the quarterfinals or better every year since 2008. 
"I'm not used to losing in the Australian Open second round," Djokovic told reporters, per Australia's The New Daily. 
Bowing out to a guy ranked No. 117 is so unlike the dominant player who tennis fans had grown accustomed to seeing in Melbourne. 
Denis Istomin shakes hands with Novak Djokovic after defeating the former world No. 1 in the second round of the 2017 Australian Open.
After winning three Grand Slams in 2015, Djokovic won the first two Slams in 2016, including his first French Open. Sitting on 12 Grand Slam titles and a nice lead at No. 1, Djokovic was being mentioned alongside the game's greatest names.
He had surpassed Bjorn Borg (11) in Grand Slam titles and was just two back of Rafael Nadal and Pete Sampras.
However, after the glorious victory at Roland Garros, Djokovic's neatly wound world began to unravel.
Speculation surfaced about marital problems. Hampered by a wrist injury, he lost in the first round of the Summer Olympics. Then came his loss in the final at the U.S. Open, and finally the unthinkable—he relinquished the No. 1 ranking.
Murray, always lurking at No. 2, seemed to come out of nowhere to seize control of the ATP World Tour. The Brit took the No. 1 ranking in spectacular fashion by defeating Djokovic in the final of the ATP's year-end championship.
After the loss, Djokovic ended his much-heralded coaching relationship with Boris Becker.
Yet Djokovic seemed poised to bounce back. Murray's points lead was within reach.
Then Djokovic defeated Murray in Doha in early January, and suddenly all seemed right again in Djokovic's gluten-free universe. That was until now.
In his role as a commentator for Eurosport, Becker blasted Djokovic about his tactics and heart. 
"I'm really shocked that Novak Djokovic lost," Becker said. "I thought he was playing much too defensive and never really took the initiative and never really fought for it. I absolutely never expected him to have trouble with Denis Istomin."
Finding a cure means figuring out what ails Djokovic. Surely, Istomin played lights-out tennis. But the unstoppable Djokovic of 2015 would have found a way out or, better yet, never let the match get that tight.  
Russell Fuller of BBC Sport believes that Djokovic's thirst for titles grew less intense after he had won the 2016 French Open.
"That burning desire to become only the eighth man in history to win all four of the sport's Grand Slams drove him forward. An unwitting consequence of that magnificent achievement appears to be a diminished appetite for the incessant demands of the tennis tour," Fuller wrote. 
Perhaps, but it's not as if there aren't other accolades, records and titles. Djokovic is 29 and still a young man in this age when Grand Slam champions continue to compete in their mid and late 30s.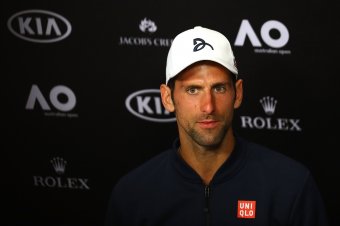 Ryan Pierse/Getty Images

Novak Djokovic takes questions from reporters following his second-round loss at the 2017 Australian Open.
But competing is one thing, and conquering is another. As Tennis.com's Steve Tignor pointed out: "Djokovic is 29, and as I've written before, 29 has been a Rubicon for his immediate predecessors at No. 1. Roger Federer and Rafael Nadal won 30 majors combined before turning that age; since then, they've won one."
Could Djokovic have just run into the wall of resistance that seems to rise up against players as they approach 30?
Carl Bialick of FiveThirtyEight thinks so.
"His pursuit of Roger Federer's record 17 titles has stalled out around the same age that slowed Federer and the other two guys Djokovic is chasing: Rafael Nadal and Pete Sampras," wrote Bialick. 

Natural regression or not, like Becker, Australian tennis commentator Pat Cash thinks Djokovic is a different player. Cash told BBC Sport that Djokovic "was not the same player he was six months ago…(Thursday's defeat) just shows that Novak has absolutely lost his edge, there's no doubt about that."
Keep in mind that in 2007, Cash proclaimed Serena Williams to be "a lost cause" who was delusional to think she'd get back to winning tournaments.  
Novak Djokovic's Winning Ways

| | | | | |
| --- | --- | --- | --- | --- |
| 2016 | 65-9 | 7 titles (2 Slams) | $14,130,465 | |
| 2015 | 82-6 | 11 titles (3 Slams) | $21,092,125 | |
| 2014 | 61-8 | 7 titles (1 Slam) | $14,250,528 | |
| 2013 | 74-9 | 7 titles (0 Slams) | $12,436,137 | |
ATP World Tour
Maybe it's time to tamp down some of the hyperbole and consider that Djokovic is where he'd be regardless of any burning desire. 
That standout performance in 2015 may have just been the peak from which Djokovic had to inevitably climb down. That year, he went 82-6 and won 11 titles, including three Grand Slams. Last year, he went 65-9 and won seven titles, including two Slams. That's actually more in line with his work prior to 2015. As seen in the chart above, Djokovic's 2016 was similar to his 2014, in which he went 61-8 and won seven titles. He won seven titles in 2013 and six in 2012. 
It's still January, and Djokovic already has a title. So in terms of winning, there's no reason to see this loss as anything but a speed bump. However, in terms of dominance and legacy-building, the robust years might be over.