Mark J. Rebilas-USA TODAY Sports
The 2016 NFL season is just days away from kicking off in Denver. It's been a long wait, but it will all be worth it when we're finally sitting down to watch a Super Bowl rematch Thursday night. 
It's not just the fans who are anxious to get the season started, though. The numerous teams that suffered season-altering injuries in the preseason will be glad to finally start playing meaningful games again. 
In anticipation of Thursday's kickoff, here's a look at the Week 1 slate of games and predictions for all the contests.
Week 1 NFL Schedule

| | | | | |
| --- | --- | --- | --- | --- |
| Thursday, Sept. 8 | 8:30 p.m. ET | Panthers | Broncos | CAR |
| Sunday, Sept. 11 | 1 p.m. ET | Vikings | Titans | MIN |
| Sunday, Sept. 11 | 1 p.m. ET | Bears | Texans | HOU |
| Sunday, Sept. 11 | 1 p.m. ET | Browns | Eagles | PHI |
| Sunday, Sept. 11 | 1 p.m. ET | Bills | Ravens | BAL |
| Sunday, Sept. 11 | 1 p.m. ET | Chargers | Chiefs | KC |
| Sunday, Sept. 11 | 1 p.m. ET | Raiders | Saints | OAK |
| Sunday, Sept. 11 | 1 p.m. ET | Buccaneers | Falcons | TB |
| Sunday, Sept. 11 | 1 p.m. ET | Bengals | Jets | CIN |
| Sunday, Sept. 11 | 1 p.m. ET | Packers | Jaguars | GB |
| Sunday, Sept. 11 | 4:05 p.m. ET | Dolphins | Seahawks | SEA |
| Sunday, Sept. 11 | 4:25 p.m. ET | Giants | Cowboys | NYG |
| Sunday, Sept. 11 | 4:25 p.m. ET | Lions | Colts | IND |
| Sunday, Sept. 11 | 8:30 p.m. ET | Patriots | Cardinals | ARI |
| Monday, Sept. 12 | 7:10 p.m. ET | Steelers | Redskins | PIT |
| Monday, Sept. 12 | 10:20 p.m. ET | Rams | 49ers | LA |
Carolina Panthers at Denver Broncos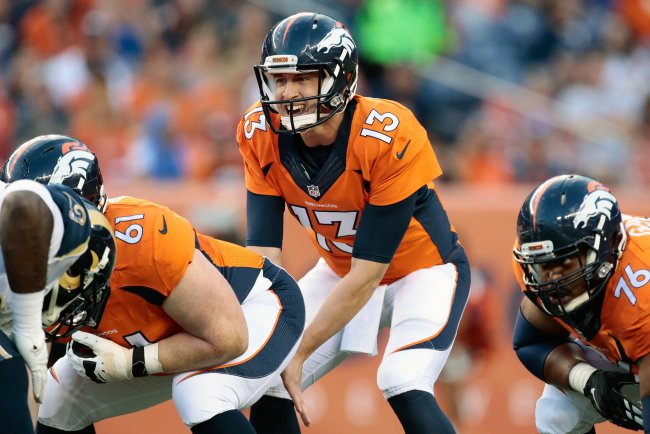 Isaiah J. Downing-USA TODAY Sports

We'll get our first look at quarterback Trevor Siemian on Thursday night as he leads the defending champion Denver Broncos against the Carolina Panthers. 
Normally, it would be an easy decision to pick the defending champions at home, but it's tough to justify taking an unproven quarterback against the Panthers.
In an effort to take some pressure off Siemian, the Broncos will likely try to establish the running game with C.J. Anderson early. It won't be easy against the Panthers, however, who boasted the league's fourth-ranked run defense in 2015.
Carolina had the entire offseason to prepare for a Denver defense that dominated in the Super Bowl but lost a few key pieces in the offseason. With an improved offensive line and some added weapons in the passing game (such as a healthy Kelvin Benjamin), Carolina should be better prepared to handle the Broncos on opening night than it was in February.
Prediction: Panthers 27, Broncos 17
Minnesota Vikings at Tennessee Titans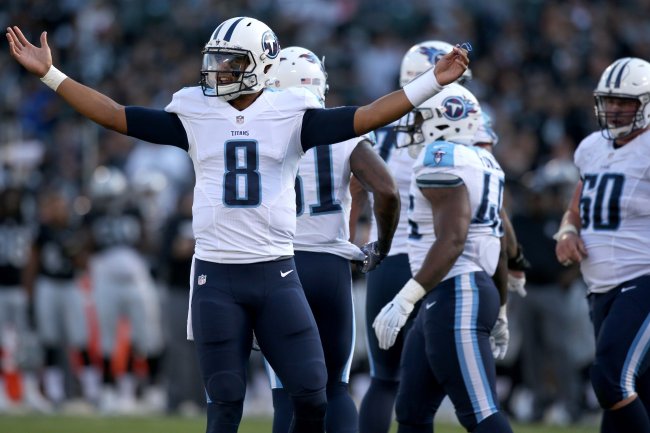 Cary Edmondson-USA TODAY Sports

This originally looked like an easy win for the Minnesota Vikings, but the loss of Teddy Bridgewater to a season-ending knee injury raises some questions.
The Vikings have since acquired veteran Sam Bradford from the Philadelphia Eagles, but it remains to be seen who will take the field in Week 1. Veteran backup Shaun Hill is the Vikings' other option. 
Regardless of who takes the snaps, the Vikings offense will likely revolve around Adrian Peterson. 
The Tennessee Titans run defense was vulnerable last season, giving up over 100 yards on the ground nine times.
As for the Titans offense, this will be Marcus Mariota's first opportunity to show how he progressed in the offseason. Mariota was predictably shaky as a rookie in 2015, and a tough Vikings defense will be a difficult matchup for him in Week 1.
Young, athletic linebackers Anthony Barr and Eric Kendricks are perfectly suited to stop a mobile quarterback like Mariota, which should give Minnesota the edge.
Prediction: Vikings 24, Titans 17
Green Bay Packers at Jacksonville Jaguars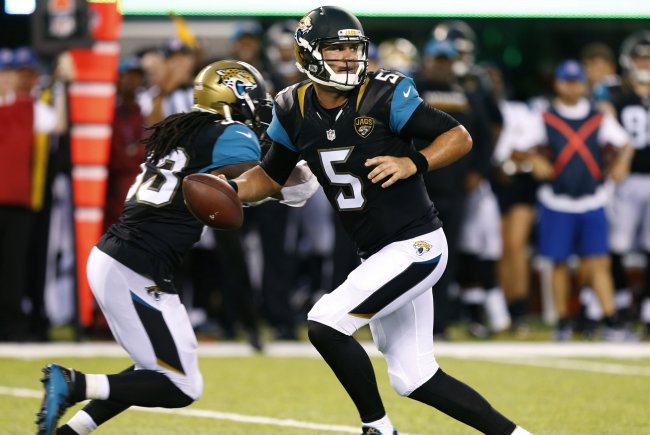 Noah K. Murray-USA TODAY Sports

The Jacksonville Jaguars have been stockpiling young talent in recent years and are a popular sleeper pick to make the playoffs this season.
They don't have to wait long for an opportunity to make a statement.
The Green Bay Packers owned the league's sixth-ranked pass defense a season ago, but those numbers were padded by some dominant performances against the Vikings and Dallas Cowboys in which they held each team under 100 yards through the air.
When Green Bay went up against some of the better quarterbacks in the league—such as Carson Palmer, who picked the Packers apart in the playoffs—the defense was vulnerable. 
Led by quarterback Blake Bortles and his stable of receivers, the Jaguars should be able to keep Sunday's game interesting, even if they come up short.
Per Odds Shark, the over/under for the matchup is 48 points, which feels low considering the high-powered potential of each team's passing attack. Jacksonville, because of its potent offense and porous defense, was involved in nine games that topped the 48-point mark a season ago, and Sunday's game has the potential to develop into another exciting shootout.
Prediction: Packers 35, Jaguars 31