Clive Brunskill/Getty Images
Novak Djokovic was recently one of the most dominant players of all time, but that era ended with his stunning loss to wild-card Denis Istomin in the second round of the 2017 Australian Open. The world No. 2 must now reinvent himself to win another major title.
Djokovic reached the pinnacle of his career after he won the 2016 French Open, the first player in nearly 50 years to hold the Grand Slam of tennis. Many tennis pundits and fans assumed he could roll on and collect another five or six major titles to chase down Roger Federer's record of 17.
But there was a limit to how long the Serb could throw his slender body into grueling matches. After summer began, he lost early matches at Wimbledon and the Olympic Games. His body rebelled, and he broke down in the final of the U.S. Open.
Even the 29-year-old's competitive heart ticked slower, and he lacked the fire and edge he recently held over the rest of the ATP tour.
By November, he lost his world No. 1 ranking to Andy Murray. After an offseason of rest and recommitment, he defeated the Scot at Doha, but he could not escape the second round of the Australian Open. He failed at the Melbourne tournament that had accounted for half his majors legacy.
Make no mistake, the Serb is still one of the favorite contenders, but it's a brave new world of tennis and he's a different Djokovic. He is going to have to reshape himself, his hunger for competition and evolve into another kind of champion.
That's the new reality.

Inside the Matrix

Djokovic's rise into a superhero tennis legend was comparable to the hero Neo in the popular science-fiction film The Matrix. He chose the path to tennis greatness by entering a painful reality, replete with all the pressures, expectations and defeats that required the utmost mental and physical strength. He became invincible, seemingly forever.
But adversaries never rest, something Neo learned in the sequel, The Matrix Reloaded. He faced unrelenting attacks from villainous Agent Smith and his infinite numbers of clones who never stopped trying to bring him down. Likewise, Djokovic could not keep up his exhausting pace, while the volume of competitors and the sheer weight of their challenges left him depleted from fighting against the world.
It was a concern late in 2016 when Djokovic talked about rediscovering his motivation. After losing to Murray in the World Tour Finals, he said, per ATP World Tour: 
Every year is an evolution for me. It's a different year. It's hard to expect to repeat all these things forever.

Nothing is eternal. I know there are other players coming up and present players that are getting stronger. I'm trying to do the same thing. Sometimes it works. Sometimes it doesn't.
Yes, the ATP is changing, but it's more about Djokovic's changes. His groundstrokes have lost a little bite, his game is more defensive and he is vulnerable to power players who can run him to the corners and finish their shots. It might only be five percent difference, but margins are small and a four-set win can turn to a five-set loss.
Djokovic has the physical tools to compete for major titles, probably for a few more years, but it will demand every ounce of his desire, optimum fitness and a restoration of his confidence.
There will come a time when he must break through heading into a third-set stalemate. Will he rip off his shirt, stare at the court with frenzied determination and march back to break his opponent?
There is time enough for further greatness, but it will be different going forward.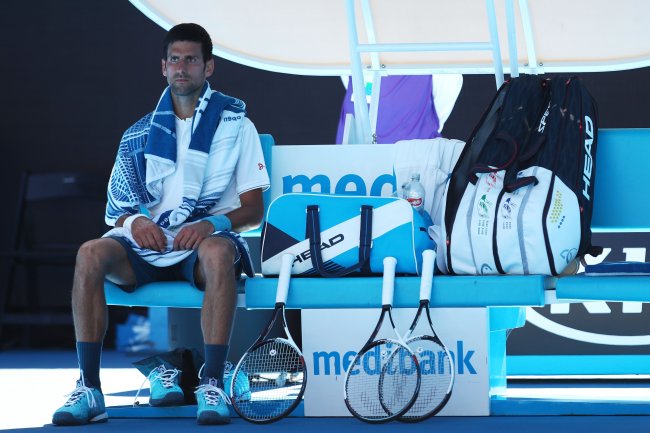 Clive Brunskill/Getty Images

Djokovic Reloaded
We are witnessing the dawn of a fourth important period in Djokovic's career after an abrupt fall from his peak.
Djokovic

version 1.0 (Rising Star), 2006-10: He was the third wheel who had the burning ambition to chase after Federer and Nadal. His education resulted from tough defeats, and he learned to improve his fitness, mental toughness and maturity. He was the hunter.

Djokovic

version 2.0 (New Champion), 2011-14: Three major titles in 2011 put him at No. 1 the majority of the time, but he also lost some major matches and went through occasional lapses even while winning more than anyone else.

Djokovic

version 3.0 (Grand Slam

Novak

), 2015-16: Sole ruler of tennis, five major titles in six attempts, possibly the greatest streak of all time. The complete package of offensive brilliance and defensive attrition. Nearly unbeatable with coach Boris Becker's aggressive mentality.

Djokovic

version 4.0 ("Aging Prime"), 2017-future: He might start a new mini-dynasty, albeit a shadow of version 3.0. Or he is already be running on empty with a pronounced decline that leaves him as merely a very good contender but no longer able to add to his historic legacy.
Maybe Istomin played out of his mind, but he hit harder than Djokovic and rallied after the Serb relinquished his closer's mentality. "It is the biggest [career] win," the world No. 117 said, per ESPN.com's Matt Wilansky. "To me, it means so much. Now I feel that I can play with these guys and be on the same level."
If Istomin believes he is the next Stan Wawrinka, ready to win majors on the wrong side of 30, well, Djokovic will have to work twice as hard to beat back revitalized veterans and hungry youngsters who all want to take the king's crown.
Will Djokovic turn to others for advice after the parting with coach Becker who was displeased with the decline of the Serb's work ethic and desire? The Grand Slam champion might have traded in his fierceness for the more reflective or pacifist approach from team member Pepe Imaz.
Following his loss, Djokovic's plan to move ahead was not a warrior's resolve but a more philosophical acceptance. "Take my bags and I go home," he said. "Lessons are always learned every single day, not just when you lose."
It doesn't sound like Djokovic any more than the way he collapsed against Istomin. Fans will have to wait for the return of the king.