Every encounter with adversity (and he experienced plenty) has only made Juan Martin del Potro stronger.
Healthy and playing regularly for the first time in three years, Del Potro issued a resounding message this summer to the competition: He's once again a legitimate Grand Slam contender.
If they don't already, the other top players should fear the ascending Argentine. 
How he reached this point is nothing short of miraculous. The pain of four wrist surgeries in five years tested Del Potro's spirit, nearly sending him to an early retirement. His career in doubt as his health kept yo-yoing, he persevered and is now being rewarded for that faith.
Beginning his season in February and down to 1,045 in the rankings, Del Potro has managed to climb all the way to No. 64, primarily based on his efforts the last few months. One monumental win after another—on the biggest stages, no less—are piling up for him as he rounds back into form.
At Wimbledon, his first major appearance since the 2014 Australian Open, Del Potro earned his first top-10 victory in two-and-a-half years by taking out Stan Wawrinka in the second round. That was just a warm-up for things to come.
Time off in July allowed him to rest and prepare for the Olympics, which he won bronze at in 2012. This time, he'd go one step further, bringing home a silver medal and dazzling the world with a bruising display of tennis.
In the first round, Del Potro outmuscled Novak Djokovic 7-6 (4), 7-6 (2), delivering the shock of the tournament. Never letting the world No. 1 get into any sort of rhythm, he simply hit him off the court with thunderous forehands and brought the Rio de Janeiro crowd to their feet.

Clive Brunskill/Getty Images

Del Potro and Djokovic emotionally embraced after their match at the Olympics.
"Amazing, amazing match for me," Del Potro told the Associated Press (h/t ESPN). "I didn't expect to beat Novak tonight, because I know my situation."
He wouldn't coast through his next matches, but Del Potro fought his way into the semifinals. There, he collided with Rafael Nadal, who coincidentally was recovering from a wrist injury of his own.
Whatever physical pain they might have been dealing with, you wouldn't know it based on the gem of a match they produced. And this one went to Del Potro 5-7, 6-4, 7-6 (5), his game firing on all cylinders in key moments.
Del Potro fell just short of the gold medal, losing in four sets to Andy Murray in the final. But he achieved a massive accomplishment by going that far and beating players like Djokovic and Nadal in the process. He proved to himself and anyone watching that he can stand with the best on any day.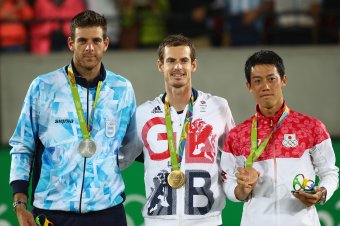 Clive Brunskill/Getty Images

The momentum he accrued in Rio followed him to New York. Blitzing past a trio of talented foes in Steve Johnson, David Ferrer and eighth-seeded Dominic Thiem, Del Potro became the lowest-ranked man in 25 years to reach the U.S. Open quarterfinals. It was also the first time he had made it to that stage at a major since Wimbledon 2013.
Though eventual champion Wawrinka ended his run, Del Potro walked off the court to a chorus of cheers as the crowd chanted his name. From nearly stepping away for good to stirring up these kinds of emotions—even Hollywood would be impressed by this comeback tale.
Another noteworthy feat yet came last week in Glasgow, Scotland. Representing Argentina against defending champion Great Britain in the Davis Cup semifinals, Del Potro took on Murray in a raucous atmosphere.
For five hours and seven minutes, they waged the type of physical and emotional battle you'd expect to see on Game of Thrones. When it was over, Del Potro walked away a conqueror, edging out the second-ranked Scot 6-4, 5-7, 6-7 (5), 6-3, 6-4 and propelling his home nation into the Davis Cup final, where they'll take on Croatia in November.
To recap: That win over Murray marked the fifth time he's beaten a top-10 player since Wimbledon. It's no wonder he's steadily growing in confidence with each passing match and test his body aces.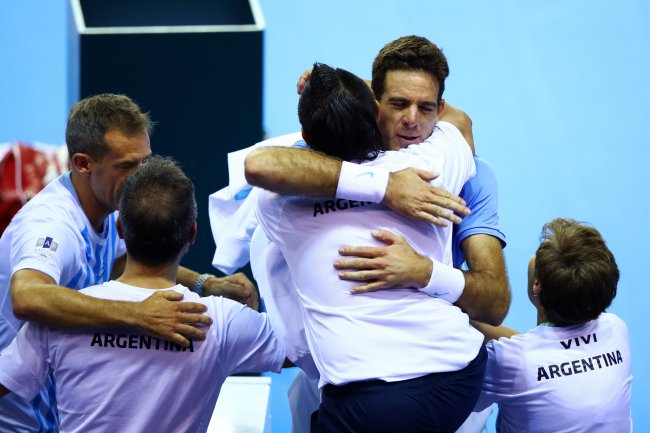 Clive Brunskill/Getty Images

Del Potro celebrates with members of the Argentina Davis Cup team after his win over Murray.
Flashes of the vintage Del Potro—the same guy who won the 2009 U.S. Open at age 20—are popping up more frequently. Even the best defenders like Djokovic and Murray have trouble taming his unfathomable power.
"Every so often, an athlete has a skill that is so obviously excellent, so justly famous, that it almost becomes a cliche," Louisa Thomas wrote for The New Yorker. "In tennis, there is Juan Martin del Potro's forehand. It is such a shorthand for power that it's easy to overlook that it's strange. No one else hits anything like it."
Those violent forehands sound like a cannon being launched when Del Potro has time to load up and let it rip. When that shot's clicking for him, matches rest squarely on his racket. And it's that ability to dominate the action that makes him a player no one wants to face.
Because of the three surgeries Del Potro has undergone on his left wrist, he's had to adjust on the backhand side. Favoring the slice, his regular two-hander is something he's still becoming comfortable with again. 
While he can't hit his full repertoire of shots yet, that hasn't prevented Del Potro from playing stunning tennis. His forehand and serve are better than ever, tools sharp enough to get him deep in tournaments and make top opponents look helpless. Imagine his potential once he grows more confident with his two-handed backhand. 
For now, Del Potro sounds grateful just to be competing and receiving positive support, as he told USA Today's Nick McCarvel:
I feel so happy to receive that love from the fans and from the tennis world. They don't care if I win or I lose and I really appreciate that. It took all my effort to come back and to play tennis again and I think I'm doing well. My forehand is still going fast, the crowd loves that.

I really appreciate everyone who cheers for me all around the world at every tournament. It's not easy to feel like a local player all over the world and that's how I feel. It's incredible.
That exuberance has lifted pressure off his shoulders and allowed him to play freely, doing what he does best: smacking the life out of the tennis ball.
Given a second chance at a career that almost slipped by the wayside, Del Potro's making the most out of it. Everything seems to be building toward a crescendo, one that could see him triumphantly lifting a Grand Slam trophy over his head in 2017.
All statistics are courtesy of ATPWorldTour.com unless otherwise noted.
Joe Kennard is a Featured Columnist for Bleacher Report.
Follow @JoeKennard