Roger Federer advanced to the third round at the Australian Open for the 18th consecutive year, but he did it the hard way this time.
Following a pair of unconvincing wins over lower-ranked players, Federer now faces a much stiffer third-round test. Failing to elevate his play will have immediate consequences for the Swiss Maestro.
In his first official match after a six-month layoff to rest his ailing left knee, Federer required four sets to best fellow 35-year-old Jurgen Melzer on Monday. Ranked 300th, Melzer took the second set from an error-prone Federer, who eventually closed out a 7-5, 3-6, 6-2, 6-2 win.
An anxious-looking Federer produced several mishits and shanks in the first two sets, keeping Melzer in the match.  
"I think I struggled for a while to find that groove, that rhythm and everything," Federer said to Tennis.com's Steve Tignor. "Then you remind yourself how many times has it not been easy in the first round."
The second round proved to be equally tough. Playing 20-year-old and 200th-ranked Noah Rubin for the first time, Federer's shakiness continued Wednesday. 
Following a taut first set, Federer coasted through the second. But he fell behind 2-5 in the third, letting his inexperienced opponent hang around. Saving a pair of set points, Federer erased the deficit and held on for a 7-5, 6-3, 7-6 (3) victory over Rubin.
"I wasn't feeling as good as in the beginning, but I definitely got a little lucky winning that third set," Federer told AustralianOpen.com's Alix Ramsay.
Luck can carry Federer only so far at the 2017 Australian Open. He won't face the likes of Melzer or Rubin anymore. Next up is 10th-ranked Tomas Berdych.

Clive Brunskill/Getty Images

Federer and Rubin shake hands after their second-round match.
Against Berdych, Federer owns a 16-6 record, winning their past five meetings. At the Australian Open, he's a perfect 3-0 when facing the Czech. That should imbue Federer with confidence, but it doesn't guarantee his passage into the fourth round.
Berdych also entered 2017 after a season that was cut short by injury. Recovered from appendicitis, he's 5-1 with a semifinal showing in Doha to start the new year. Through two matches in Melbourne, Berdych has needed only four sets to advance past Luca Vanni (retirement) and Ryan Harrison.
His fresh legs could be an advantage against Federer. As Berdych famously demonstrated at Wimbledon in 2010 and the U.S. Open in 2012, his power can put Federer in defensive positions and keep him constantly on the move. Still building strength back in his knee, the Swiss is going to be pushed physically.
He hasn't played more than four sets in a match dating back to the Wimbledon semifinals. If his showdown with Berdych becomes a long battle, will his body handle the punishment so early into his comeback?
"I know I've got to lift my game a little bit," Federer told ATPWorldTour.com. "But then again, I haven't seen Tomas play a lot, to be honest. I didn't see anything, basically. Let's put it that way. He was playing at the same time now. I've just got to play on my terms and really be focused on my own service games to make sure I don't have any lapses there."
He'll have to keep points short to give himself the best chance to advance. Now ranked 17th because of all the time he missed last year, Federer—who's defending semifinal points—would plummet further with a loss to Berdych. 
If Roger Federer loses to Tomas Berdych on Friday, he will drop out of the world's top 30 for the first time since October 2000.


— Stuart Fraser (@stu_fraser) January 18, 2017
One positive for Federer to draw upon before facing Berdych is serving efficiency. Broken four times through the first two rounds, Federer has also served 36 aces compared to just three double-faults. Keeping a similar ratio can propel him into the second week.
Expecting Federer to pick up where he left off at Wimbledon last summer and perform near that standard was never a realistic proposition. It'll likely take a few months (good health withstanding) for him to build the kind of rhythm he desires. So these early-round cobwebs he's shaking off shouldn't come as a huge surprise.
Berdych is the type of test he needs right now in order to further assess where his game is at and what he needs to work on. Should Federer come out on top in that match, No. 5 Kei Nishikori looms in the fourth round.
Federer holds a 4-2 edge over Nishikori, although they've never met at a Grand Slam.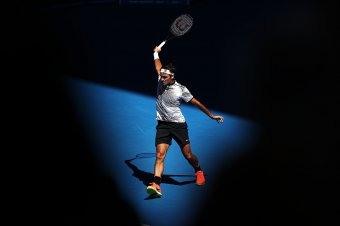 Ryan Pierse/Getty Images

Nishikori avoided disaster in the first round, holding off Andrey Kuznetsov in five sets. He played steadier in his last match, easing past Jeremy Chardy 6-3, 6-4, 6-3. A quarterfinalist the previous two years in Australia, the offensive-minded Nishikori presents a potentially brutal matchup for Federer at this point in his return.
If Federer does somehow stop Berdych and Nishikori in succession, his reward would be No. 1 Andy Murray in the quarterfinals. Draws don't get much more brutal than that.
The level Federer displayed against Melzer and Rubin won't cut it against those Top 10 guys in his path. They can make him pay for the mistakes he got away with in the first two rounds.
Only a significant (and quick) rise in form can save Federer from what seems like an inevitable early departure. At this point in his recovery, that's a big ask for him.
Federer may not be overly concerned with his ranking anymore as he chases his 18th Grand Slam title. But losing one of these upcoming matches would drop him outside of the Top 20 and lower his chances at upcoming tournaments.
For now, he can worry only about his upcoming challenge. And Berdych provides a big one.      
All statistics are courtesy of ATPWorldTour.com unless otherwise noted.
Joe Kennard is a Featured Columnist for Bleacher Report.
Follow @JoeKennard