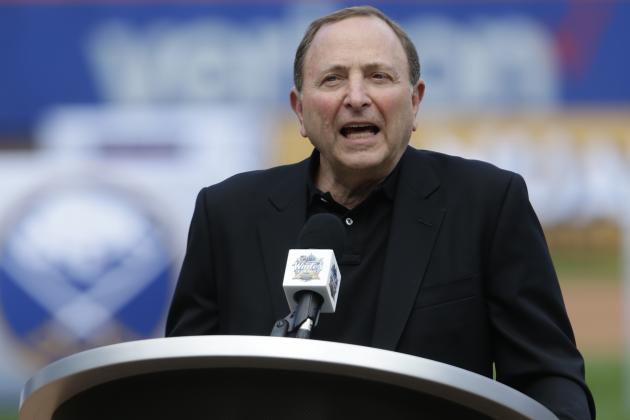 Frank Franklin II/Associated Press
The NHL has approved Seattle's request to submit an expansion application and will permit the city to begin a season-ticket drive, according to Emily Kaplan of ESPN. 
Kaplan also reported NHL commissioner Gary Bettman set a $650 million price for the expansion, compared to the $500 million price that was set for the Las Vegas Knights. Seattle's potential franchise would enter the NHL in the 2020-21 season.
"It is envisioned that the terms of an expansion agreement, would it go forward, would basically be the same as Las Vegas—except the price," Bettman said at the league's Board of Governors meeting, per Kaplan. "If we decide for whatever reason for the 2020 season, instead of expanding, using an existing franchise, that's always an option. But that's not something we're focused on right now. Because we're not anticipating anybody moving right now."
This latest step isn't a guarantee for Seattle.
"That doesn't mean we have granted an expansion team," Bettman emphasized, per Dan Rosen of NHL.com. "We have agreed as a league to take and consider an expansion application and to let them run in the next few months a season-ticket drive." 
The Oak View Group, which is the prospective ownership group for Seattle's potential NHL franchise, will run that drive in an effort to determine the level of interest in the city.
Per Kaplan, "the Seattle city council approved a Memorandum of Understanding for the privately financed Oak View Group to move forward with a $660 million remodeling of Key Arena, paving the way for potential NBA and NHL franchises."
Bettman also noted that Seattle is the only city currently being considered for expansion, according to the Associated Press, with Kaplan reporting that the NHL has long "coveted" having Seattle in the NHL.
Bettman also provided an update on several other cities, per Pierre LeBrun of TSN: 
Bettman says he doesn't know where this leaves Quebec City other than to say right now they're only looking at Seattle for possible expansion. Points to geography and chance to balance the conferences

— Pierre LeBrun (@PierreVLeBrun) December 7, 2017
Bettman says nothing going on right now with Houston

— Pierre LeBrun (@PierreVLeBrun) December 7, 2017
Bettman says Arizona still working on arena plan and says he doesn't consider them a re-location candidate

— Pierre LeBrun (@PierreVLeBrun) December 7, 2017
Seattle has never been host to an NHL team, though, as Rosen noted, the Seattle Metropolitans competed in the Pacific Coast Hockey Association between 1915-24 and won the 1917 Stanley Cup.