Take a look at John Wall's Twitter feed, and you'll see the same thing over and over again. The Washington Wizards point guard has spent the better part of January constantly retweeting messages that include his name and the all-important "#NBAVote" hashtag. 
Of course, it didn't pay off.
Wall was omitted from the Eastern Conference's starting lineup in favor of Kyrie Irving and DeMar DeRozan, and now the rest of the league is going to pay. The New York Knicks were the first to feel his wrath in a closer-than-it-should-have-been 113-110 defeat in Madison Square Garden. 
According to NBA.com's official results, Wall somehow finished seventh in fan voting, trailing Irving, Dwyane Wade, DeRozan, Isaiah Thomas, Kyle Lowry and Derrick Rose. He fared better in the other sections—fourth in the player vote and fifth among the media panel—but it wasn't enough.
And as this breakdown from NBA Math might indicate, his play should have merited stronger consideration: 
DeMar DeRozan and Kyrie Irving are starting for the Eastern Conference All-Star team. Did they deserve it over these snubs? pic.twitter.com/NOAJaSfqW5

— NBA Math (@NBA_Math) January 20, 2017
Wall might not admit that this snub will motivate him, but based on how he performed Thursday night, he won't need to. His play can do all the talking.
The floor general was dynamite from start to finish against Rose, who, again, received more votes from fans. It's worth driving home just how crazy that result was, is and will be.
He helped his team open up a double-digit lead in the first quarter behind 11 points and seven minutes. Everything he did was efficient, as he only missed a single shot from the field and passed the rock with pinpoint precision, most notably on this dime to Marcin Gortat:
Then the Washington bench let him down, as it so often has in 2016-17.
The Wizards were utterly defenseless against a 25-point onslaught from Carmelo Anthony in the second period. Even as they kept him away from the basket, they were powerless to slow down the barrage of mid-range jumpers:
But Wall would get the last laugh, finishing with the victory and yet another stellar stat line: 29 points, five rebounds, 13 assists and three steals on 11-of-21 shooting from the field. And he was never better than during the closing minutes. 
After a rough start to the 2016-17 campaign, the Wizards have slowly crawled back into the playoff picture. It hasn't been easy, but they've been able to ride Wall's heroics, Bradley Beal's offensive exploits and Otto Porter's development into someone who's sure to make oodles of cash this summer.
Entering the Knicks affair, Washington sat at 22-19 on the year and had won seven of its last eight. More importantly, the team was within shouting distance of the Atlanta Hawks and the Eastern Conference's No. 4 seed. 
Wall wasn't about to let the Wizards lose that progress against the increasingly hapless Knicks. And he didn't, putting together a pair of clutch plays that will surely be revisited if his squad is in contention for home-court advantage in a few months: 
Those plays don't happen without a combination of skill, athleticism and motivation. Now, after he was forced to wait for the announcement of reserves to know if he made the All-Star roster, Wall has more of the last component than ever.
"Everything that comes with it—MVP, All-NBA, All-Star MVP, winning an NBA championship," he recently told Jeff Zillgitt of the USA Today about what it means to want to be the best. "I know there's a lot of great players in this league but me being healthy and me being back to myself, I give myself a shot to be one of the best players in the league. But it's all about winning. You don't get those accolades without winning. If you're not winning, you don't get noticed."
Wall didn't list becoming an All-Star starter as one of those accolades, but it certainly counts as such. Though history may not differentiate between starters and reserves, it will inevitably sting that the fans, media and players didn't feel he was deserving enough during a career season. 

Nathaniel S. Butler/Getty Images

That just means he has to win even more. And that, in turn, means he needs to keep playing like he did against the Knicks, or like he did while winning the Eastern Conference Player of the Month award for his December exploits. 
Washington is wholly dependent on him and the rest of the starters in its quest to remain competitive. According to NBA.com, the team posts a minus-9.3 net rating when he's on the bench, and that elevates to 4.3 with him on the floor. 
Wall simply has to continue rolling for the Wizards to keep pace and potentially earn a top-four seed out East. At least he now has a little more drive to do exactly that. 
Cleveland Cavaliers Back on Track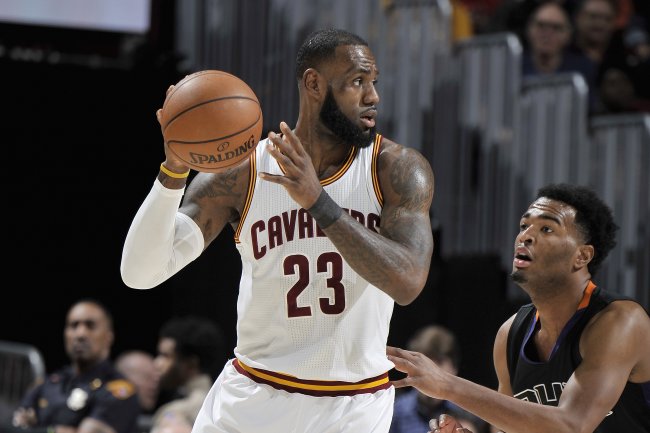 David Liam Kyle/Getty Images

This is more like it. 
The Cleveland Cavaliers shouldn't be fully satisfied with their 118-103 victory over the Phoenix Suns, who fell to just 13-29 with this latest loss. Their defense was still a bit too easy to penetrate, and they fouled way too frequently, sending the opposition to the stripe 31 times. 
But this was a major step in the right direction. 
Since the beginning of January, the Cavaliers have been bad. Not bad relative to the expectations; just flat-out bad.
They'd gone 4-4 prior to this outing, beating no one better than the New Orleans Pelicans and losing to every playoff hopeful they'd faced. After their 126-91 thrashing by the Golden State Warriors, their January net rating fell to minus-6.7—better than only the Miami Heat, Orlando Magic and Brooklyn Nets. Offense served as the primary culprit, as the Cavs were one of three teams failing to score at least a point per possession. 
Thursday night, offense posed no problems. 
Granted, the caveats that come with playing a struggling Suns squad have to apply, but so many different players thrived against Phoenix. LeBron James flirted with a triple-double (21 points, 9 rebounds, 15 assists), while Kyrie Irving (26 points), Channing Frye (18 points), Iman Shumpert (17 points) and James Jones (14 points) all hit double figures. 
The schedule is about to toughen up with the San Antonio Spurs looming, but at least Cleveland gets to take some much-needed positives away from this outing. 
Nikola Jokic Keeps Rolling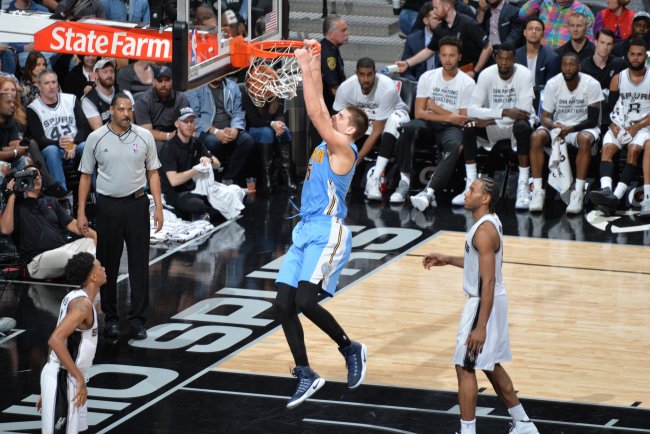 Mark Sobhani/Getty Images

Yes, the San Antonio Spurs beat the Denver Nuggets, 118-104, and still have yet to lose their 10th game of the season. Yes, Kawhi Leonard dropped 34 points—his fifth consecutive outing scoring in the 30s. 
But Leonard still wasn't the high-scorer on the night. 
Taking advantage of a weakened San Antonio frontcourt, which was missing Pau Gasol after he fractured his finger in pregame warmpus, per ESPN.com's Michael C. Wright, Nikola Jokic exploded. He often seemed incapable of missing, thriving as he knocked down touch shots around the hoop, mid-range jumpers and a pair of triples to finish with 35 points, 12 rebounds, four assists and two blocks on 14-of-22 shooting. 
This may have been a career night from Jokic, but it falls in line with everything he's done over the last few outings:
Nikola Jokic's Recent Games

| | | | | | |
| --- | --- | --- | --- | --- | --- |
| Jan. 5 | 19 | 11 | 5 | 8-10 | 0-0 |
| Jan. 12 | 22 | 10 | 7 | 7-12 | 2-3 |
| Jan. 16 | 30 | 11 | 5 | 13-19 | 1-2 |
| Jan. 17 | 29 | 15 | 1 | 12-22 | 1-5 |
| Jan. 19 | 35 | 12 | 4 | 14-22 | 2-4 |
| Average | 27.0 | 11.8 | 4.4 | 54-85 (63.5%) | 6-14 (42.9%) |
The Denver offense has been unstoppable with Jokic running the show. Operating as a primary facilitator and aggressive scoring threat, he's kept defenses off balance and constantly found ways to adjust to any and all schematic alterations. 
That dizzying skill set was on display yet again Thursday night. San Antonio seemed intent to cut off the lobs into the paint that have produced so many recent highlights, so Jokic took over as a versatile scorer.
Just look at the dexterity (and luck) it takes to play volleyball and then get the ball to drop in traffic: 
Take a peek at his water-polo style on this play:
At half, the @spurs lead the @nuggets 59-58 on NBALP.

Kawhi: 13 PTS. Jokic: 17 PTS, 4 REB, 4 AST. pic.twitter.com/DxupBHIur9

— NBA (@NBA) January 20, 2017
Since re-entering the starting lineup on Dec. 15, Jokic is now averaging 20.4 points, 9.6 rebounds, 5.1 assists, 0.7 steals and 0.8 blocks while shooting 63.8 percent from the field, 46.4 percent from downtown and 78.2 percent from the charity stripe. 
Start thinking of him as a star. He is one. 
Dunk of the Night: Kristaps Porzingis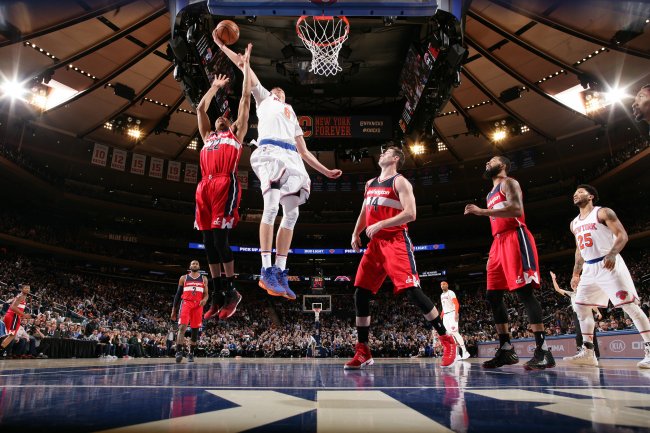 Nathaniel S. Butler/Getty Images

Kristaps Porzingis is the master of the putback dunk, to the point that Bleacher Report's Dan Favale once wrote an article ranking the best of his second-chance slams. 
He was back to his old tricks Thursday night, swooping in to steal a rebound away from Otto Porter and completing a vicious jam: 
If you have to watch that six more times, I can't blame you. Kevin Harlan's call will never cease to entertain.
Thursday's Final Scores
Cleveland Cavaliers 118, Phoenix Suns 103
Miami Heat 99, Dallas Mavericks 95
Washington Wizards 113, New York Knicks 110
Denver Nuggets 104, San Antonio Spurs 118
Adam Fromal covers the NBA for Bleacher Report. Follow him on Twitter: @fromal09.
Unless otherwise indicated, all stats from Basketball-Reference.com, NBA.com or NBA Math and accurate heading into games Thursday, Jan. 19.